President's Message
Greetings from the President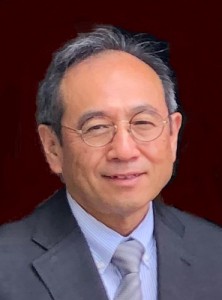 The purpose of AESJ's activities, giving the top priority to public safety, is to provide environmental conservation and social development by advancing science and technology on the peaceful uses of nuclear energy and radiation.
AESJ marked its 60th anniversary on February 14th, 2019.  In addition, 2019 is also a year when a new era has been reached from Heisei to Reiwa.  It is an honor for me to serve to AESJ as the president at such a historical milestone.

AESJ held the 60th anniversary symposium on April 25th, 2019. At the symposium, former president gave a presentation entitled "The 60-year history of AESJ - Through the earthquake disaster -."  The presentation showed us the results of reviewing activities of AESJ and the perspective for next 10 years, " a vision to rebuild public trust and to carve out a new future toward the reconstruction period of nuclear energy" And five challenges to be specifically addressed regarding these activities were indicated.
As shown below, I'm working with members of AESJ on the five challenges indicated for "toward the reconstruction period," in addition to pursuing nuclear and radiation technologies that are useful to society.  Through tackling these challenges, we contribute to some of the United Nations Sustainable Development Goals (SDGs) and leaving a better earth for future generations.  I hope that approximately 6,500 members of AESJ will take the initiative in tackling individual tasks by facing to the same direction together while sharing roles, regardless of their affiliations. I take the lead and work on the challenges.
Promoting activities for suggesting the necessity of nuclear energy and better understanding of nuclear energy

AESJ is an academic society in the field of engineering for social application of science and technology.  In other words, it is very significant to recommend to society that nuclear energy is useful to human society from the standpoint of experts and that it plays a major role in the sustainable development of humanity.  Therefore, we examine the necessity of nuclear energy from various aspects, namely, securement of energy of our country, maintenance and development of national economy and cultural life, global environmental issues worldwide, and so on.  We will actively propose the results of our examination to society.
With regard to activities for understanding of nuclear energy, in order for the general public to deepen their trust and understanding of nuclear technology and its utilization, we strive to disseminate information from the standpoint of those receiving it with always keeping in mind the following points;

- "What information does the recipient need?"

- "Is the information easy enough for the recipient to understand?"

Promoting the decommissioning of the TEPCO Fukushima Daiichi Nuclear Power Plants (1F), and supporting Fukushima reconstruction

In order to recover public understanding of nuclear energy use, it is essential to promote decommissioning of 1F accident and the recovery of surrounding areas. We make every effort to contribute technically as an expert to safely and smoothly proceed to the decommissioning, and to support the reconstruction of the surrounding area. That is an important responsibility of AESJ. Specifically, we continue the activities of the Fukushima Special Project and the 1F Decommissioning Committee, which have been implemented so far. In addition, we carry out promoting effective and efficient implementation of activities for contributing to the response on 1F accident and Fukushima reconstruction by cooperating and exchanging knowledge with academic societies through the Academic Network contributing to Fukushima Reconstruction and Reactor Decommissioning (ANFURD), which was established in 2016.

Promoting research on peaceful use of radiation and research on radiation protection

The use of nuclear energy includes not only use as energy but also use of radiation. The use of radiation is also aimed at the social application of science and technology. The use of radiation has shown considerable progress in various areas. For example, development of radiation detectors aiming at application in Fukushima, advancement of sensor technology using quantum beams, material science field such as new material development, medical field such as nuclear medicine, biotechnology field such as agriculture and food, R&D using accelerators and their industrial applications, and so on. We further promote the use of radiation. We also promote research on radiation protection, such as research on the effects of low-dose radiation on organisms.

Continuation of education and human resource development, and technology inheritance

Human resource development and technology inheritance are essential for maintaining and developing nuclear technology. However, some of education and research facilities are being demolished in universities and research institutes in Japan, and the maintenance of them is difficult. As a result, it can be said that there is anxiety for future. Nuclear technology is a combination of science and technology in various fields. Therefore, in order to maintain and develop the technological base of nuclear energy, it is very important to strengthen each element of science and technology, that is, basic technology.
Considering the above situation, AESJ invigorate the technical committee activities in various fields. And by allowing young researchers to actively participate in those activities. I promote the enhancement and inheritance of the knowledge base. In addition, AESJ actively engages in activities related to the restart of nuclear plants/facilities, continuous improvement of safety, and contribution to safe and reliable decommissioning.
In technology inheritance, the experience of actual design and manufacturing is important. Nonetheless, the establishment of new power reactors and test reactors in Japan has not been done for more than 10 years, and the critical OJT opportunity is lost. It is likely to face such a crisis that many engineers with little practical experience will be produced in the future.
We will share the awareness of this crisis among our members and strive to foster human resources and inherit technology. We consider specific efforts in support of student education and energy learning in primary and secondary education, and continue various supports so that young people can play an active role internationally. In addition, we continue to disseminate the accumulated knowledge related to the 1F accident to the world, and start examining to archive of all of knowledge and technology accumulated so far.

Activities to maintain the number of members

We have gone out of the temporary financial crisis through management improvement over the last few years and the understanding, cooperation, and effort by members. However, the number of members has recently decreased by about 100 every year. About 200 members resigned last year. Furthermore, we face the situation such as declining birthrate and aging, leaving away from science of young people, and retirement of baby boomers. Reflecting this situation, we have another problem that there are fewer young people and fewer women in our membership. While recognizing such issues, we work to strengthen the activities of young members, work on diversity, and improve member services. In particular, HP's renewal is urgent, and I would like to clearly show the benefits of the members there.
Vice President for FY2019
Ken Nakajima, Kyoto University
Akira Yamaguchi, Tokyo University
Yoshitaka Fujisawa, CHUBU Electric Power Co.,Inc.